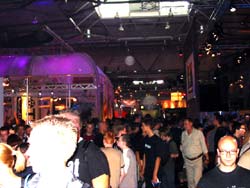 Menschen über Menschen - der Samstag auf der Game Convention.

VIVA Moderatorin Janine bei der ebay-Liveauction.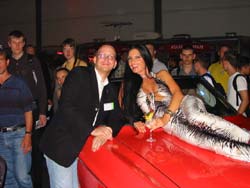 Unser freier Redakteur Chris von nippondreams.com beim Fachgespräch am Atari-Stand.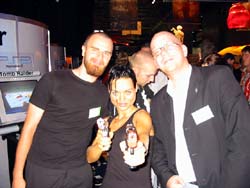 Lara Croft stellte Ihr neuestes Werk "persönlich" vor.
Nach unserem ersten Bericht vom Donnerstag, dem ersten Tag der Game Convention in Leipzig, könnt Ihr hier in Teil 2 lesen, was die folgenden beiden Tage auf der Messe los war.
Zuerst muss gesagt werden, daß man am Freitag und vor allem am Samstag deutlich merkte, daß die Besucherzahlen deutlich in die Höhe gingen...kein Wunder, Samstags ist ja auch keine Schule. Also sagte sich halb Leipzig: Auf zur Game Convention. Die angepeilten 80.000 Besucher dürfte man jedenfalls erreicht haben.
Nun aber das neueste von den Ausstellern, über die wir in Teil 1 unseres Berichtes nicht berichteten.
Electronic Arts, die einen imposanten Stand aufgebaut hatten bringen für den GBA, das bei traumerlebnis.de bereits vorgestellte Football Mania, ein Fußball-Game mit LEGO Charakteren sowie Island Extreme Stunts - ein Racer mit LEGO Charakteren, in dem eine ganze Reihe verschiedener Fortbewegungsmittel zum Einsatz kommt. Weitere Titel wären Der Herr der Ringe: Die Zwei Türme, das von Amaze Entertainment entwickelt wird. Der zweite Teil wird ein Action Adventure, in dem Ihr fast jeden wichtigen Charakter des Filmes durch jeweils 30 Level steuern könnt. Im Kampf trefft Ihr auf die 5 Monster aus den ersten beiden Filmen, z.B. der Höhlentroll und Saruman. Außerdem bietet die GBA Version einen 4-Spieler Link Modus. Der zweite wichtige Titel von EA wird Harry Potter und die Kammer des Schreckens werden. Dabei wird die von Eurocom entwickelte GBA-Version im Gegensatz zur GBC Version kein RPG, sondern ein Actionspiel werden. Weiterhin erscheint FIFA 2003.
THQ unterstützen den GBA vorerst weiterhin tatkräftig, sind aber auch nicht allzu zufrieden mit den Verkaufszahlen Ihrer GBA-Titel. Für 2003 kann man, dank einer Lizenzvereinbarung mit Pixar mit drei neuen GBA-Titeln zu den nächsten drei Pixar-Filmen rechnen.
Auch Ubi Soft wird den GBA weiterhin vorerst voll weiter unterstützen. Allerdings wurden keine neuen Titel auf der Messe präsentiert. Auf die Frage nach dem Deutschland Release von Lunar Legends reagierte man nur mit Schulterzucken.
Bei Acclaim konnten wir das fertige Turok Evolution für den GBA kurz antesten, welches in der kurzen zur Verfügung stehenden Zeit einen guten Eindruck machte und stark an Contra erinnerte. Womit wir auch schon bei Konami angekommen wären. Konami´s Contra Advance: The Alien Wars EX für den GBA wird erst Anfang 2003 erscheinen, wird aber auch in Deutschland höchstwahrscheinlich nicht als Probotector mit Robotern als Charakteren, sondern als Contra mit menschlichen Charakteren und Gegnern veröffentlich werden. Das Spiel wird zwar eine Umsetzung der SNES-Version sein, aber auch eine Reihe neuer Level bieten. Wie schon auf dem SNES wird es möglich sein, zusammen via 2-Spieler-Linkmodus auf Alienhatz zu gehen Weiterhin erscheint Power Puff Girls: Him and Seek. Anspielen konnten wir außerdem Castlevania - Harmony of Dissonance, das uns sehr gut gefiel. Weiterhin werden 2003 wohl mit einer GBA-Umsetzung des in Japan sehr beliebten Card Battle (eine Art Quartett) Games Yu-Gi-Oh rechnen können. In Japan wurden von der Yu-Gi-Oh Serie mittlerweile über 7 Millionen Exemplare verkauft. Ein weiteres Highlight im Jahre 2003 wird ein neues Rollenspiel der Suikoden Reihe für den GBA werden.
Zusamenfassend kann die Game Convention wohl als Erfolg, nicht zuletzt aufgrund der massiven Anstrengungen der Aussteller und tausender Werbegeschenke für die Besucher, bezeichnet werden. Bleibt zu hoffen, daß sich die Messe als feste Größe in der Branche etabliert und auch nächstes Jahr wieder zehntausende Gamer nach Leipzig locken wird.